BISS/BIS/RUBISS/MRUBIS SUP Ch. Ghostwind U Have My Numba ET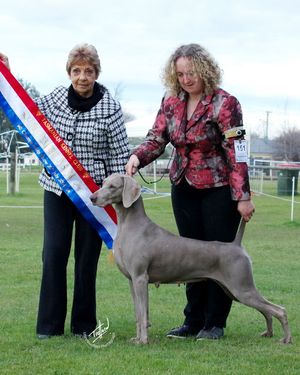 Charli winning BEST IN SHOW ALL BREEDS under Mrs Joanne Sewell (WA)
Charli winning Best In Group under Mrs C Scotton (Vic), same show Charli was Aust Bred In Show under Gundog Specialist Mrs M Hanley (NSW).  Photo: Michael Trafford
Charli winning RUNNER UP BEST IN SHOW under Gundog Specialist Mr John Thompson (VIC)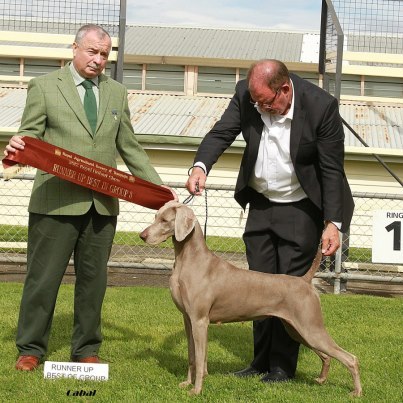 Charli RUNNER UP BEST IN GROUP - HOBART ROYAL 2012 - Frank Kane (UK)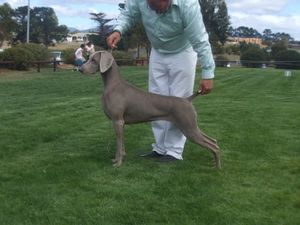 Charli - 17th March 2012 - Runner Up Best In Group - Brighton Kennel Club - Kaye McGhie (QLD)

Charli is co owned with Jessica Cullen

Charli is from the successful mating of
Mac
and
Pip
Charli is a MULTI CLASS IN SHOW and MULTI CLASS IN GROUP Winner.

NUMBER 1 WEIMARANER NATIONALLY RISING STAR**
NUMBER 1 GUNDOG RISING STAR TASMANIA**
NUMBER 3 ALL BREEDS RISING STAR TASMANIA**
(DOL Pointscore 2009 Final)

Proving her versatility, a great show bitch, a great producer and now has completed her Endurance Title. 

BEST IN GROUP HOBART ROYAL 2013
Gundog Group winner and Open: My group winner was the classy Weimaraner bitch who has such fabulous ring presence and was handled so well by her young handler. She has a lovely outline with a good head and expression, great body and topline coupled with strong hindquarters which she used to best advantage, she never put a food wrong to take the group.
BEST IN SHOW WINNER ALL BREEDS
MULTI RUNNER UP BEST IN SHOW WINNER ALL BREEDS

BEST OF BREED & TOP 8 GUNDOG SYDNEY ROYAL 2013
Weims, I had a good day, I had some lovely Weims and  I am very happy with my final line up.BOB: Best Of Breed was the elegant open bitch, proper balance, beautiful angles, lovely reach of neck, layback, nice prosternum, not too much, beautiful tail set, beautiful head and expression, and she held it all when she went  around that ring, with great extension in the front and rear
.
DAM & PROGENY WINNER 2017 WEIMARANER NATIONAL
PART OF WINNING BREEDERS TEAM 2017 WEIMARANER NATIONAL
Am Ch/Can Ch/ Aust GR Ch Graytsky's Smokin' in Havana Imp USA

Am Ch/Can Ch Ashmores Win Weim Royal Flush AM JH

Am Ch Nani's Concert Master SH BROM

Am Ch B aht N'Greywind Playn' The Game

Am Ch Nani's Perfect Cadence BROM

Am Ch Colsidex The Farms Reflection

Am Ch Colsidex Blueprint BROM

Am CH The Farm's Made In The Usa

Am Ch. 3XBISS GraytSky's StellaLuna BROMTop Producer

Am Ch Nani's Smart ALeck AM JH

Am Ch Nani N'Graytskys Harvest Moon

MBIS/MBISS Aust Gr Ch Ghostwind Pictureperfect

Aust Ch Ghostwind Pink Floyd

Aust Ch Mazlaren Wispa Inth Wind

MBIS/MBISS Ch Ghostwind Vivien Leigh

Aust Ch Grauhund Heartbreaker

MBIS Am Ch/Gr Ch Colsidex Grauhund Just Jeans (Imp USA)

Aust Ch Grauhund An Affairt Remember

Ch Ghostwind Windnthwillows

Aust Ch Ghostwind Pink Floyd

Aust Ch Mazlaren Wispa Inth Wind