MBISS/RUBIS CH Ghostwind Let Me Entertain You
BISS/RUBIS Ch Ghostwind Let Me Entertain You
'Robbie'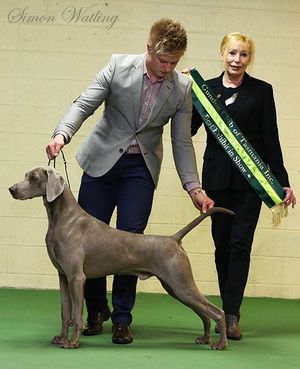 Robbie winning BEST IN SHOW under Gundog Enthusiast Mrs Cathy Delmar (IRE) Gundog Club Of Tasmania Inc Championship Show.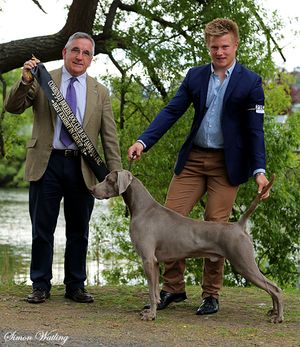 Robbie winning BEST IN GROUP at CBDC Dogfest October 2015 under Gundog Specialist Mr W Douglas (VIC)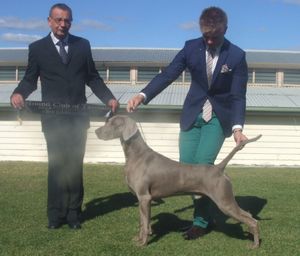 Robbie winning BEST IN GROUP at the Hound Club Of Tasmania All Breeds Show under Mr W Schnitzer (South Australia)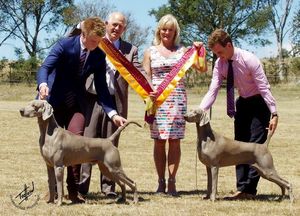 Robbie and his sister (repeat mating) Ch Ghostwind Rumour Has It winning RUNNER UP BEST IN SHOW/AUST BRED IN SHOW and PUPPY IN SHOW Southern Midlands Kennel Club.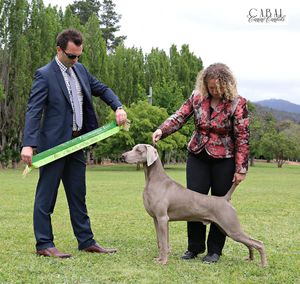 Robbie winning Intermediate In Show at the Gundog Club Tas Champ Show under Gundog Specialist Mr C Cavallo (VIC)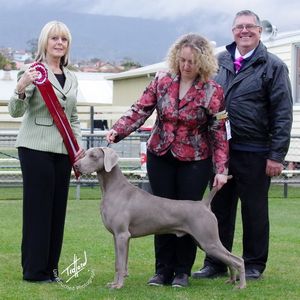 Robbie winning Best Intermediate In Show and Best In Group under Ms Linda Buckley (ACT) and Mr Les Bradney (NSW).
(Ch Rifleman Beauty Before Me (Imp NZ) x Ch Ghostwind U Have My Numba)
"LET ME ENTERTAIN YOU"

MULTI BEST IN SPECIALTY SHOW
RUNNER UP BEST IN SHOW ALL BREEDS
MULTI CLASS IN SHOW WINNER
MULTI BEST IN GROUP WINNER
MULTI RUNNER UP BEST IN GROUP WINNER

New Australian Champion at 13 Months against adult competition

BEST IN GROUP/INTERMEDIATE IN SHOW - HOBART ROYAL 2014

PUPPY IN SHOW - HOBART ROYAL 2013
UNDER MR ANDREW BRACE (WALES) 


Critique from Mr Brace:


Best of the puppies made a huge impact on me and this was the 10 months Weimaraner Male GHOSTWIIND LET ME ENTERTAIN YOU, and what a stallion in the making we have here. He screams his breed from the start, has a typical head which emphasizes his gender yet still retains quality and the outline flows from nose to tail, rippling with fitness and muscle despite his youth. For his age he was remarkably well covered and on the move he was a goose-bumps dog, eating up the ground in profile and firmly placing his feet in the right place on the out and back, his accurate gait possibly owing much to the fact that he is not - like so many of the breed - hideously over-angulated in the rear. I see his is a son of the group winning bitch; she has more than a worthy successor. This one is destined to rack up BIS wins I am sure.

Critique from Group 3 Judge: Mrs Anne Ingram (IRE)

Puppy - Weimaraner This young man will undoubtedly be a big winner in the future with his lovely breed type, correct head and expression and what a good front, no easily achieved in this breed, excellent body and topline, strong hindquarters which he used to best advantage

Robbie has multiple Challenges to his name against full line up of adult males.

Sired by our young male Ch Rifleman Beauty Before Me (Imp NZ) who himself has been very successful in the show ring including winning RUNNER UP BEST IN GROUP Launceston Royal 2012.

Robbie's dam RUBIS Ch Ghostwind U Have My Numba has been in the winners circle since making her debut with her most recent results being BEST IN GROUP Hobart Royal 2013 under Mrs Anne Ingram (IRE), RUNNER UP BEST IN GROUP Hobart Royal 2012 under Gundog Specialist Mr Frank Kane (UK) and BEST OF BREED AND TOP 8 GUNDOG Sydney Royal 2013 (the largest dog show in the Southern Hemisphere).

We look forward to Robbie's first progeny are making the ring debut late 2014
Ghostwind Naughty But Nice - MULTI CLASS IN SHOW WINNER
Ghostwind Naughty By Nature - MULTI CLASS IN SHOW WINNER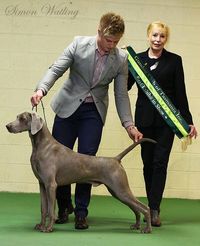 BISS Ch Rifleman Beauty Before Me (Imp NZ)

Am Ch Nani's Concert Master SH BROM

Am Ch B aht N'Greywind Playn' The Game

Am Ch Nani's Perfect Cadence BROM

BISS/BIS Aust Ch Ghostwind Vivien Leigh

Aust Ch Grauhund Heartbreaker

Ch Ghostwind Windnthwillows

Ch Ghostwind Perfect Picture

Am Ch/Can Ch/ Aust GR Ch Graytsky's Smokin' in Havana Imp USA

Am Ch/Can Ch Ashmores Win Weim Royal Flush AM JH

Am Ch. 3XBISS GraytSky's StellaLuna BROMTop Producer

MBIS/MBISS Aust Gr Ch Ghostwind Pictureperfect

MBIS/MBISS Ch Ghostwind Vivien Leigh

Am Ch/Can Ch/ Aust GR Ch Graytsky's Smokin' in Havana Imp USA

Am Ch/Can Ch Ashmores Win Weim Royal Flush AM JH

Am Ch Nani's Concert Master SH BROM

Am Ch Colsidex The Farms Reflection

Am Ch. 3XBISS GraytSky's StellaLuna BROMTop Producer

Am Ch Nani's Smart ALeck AM JH

Am Ch Nani N'Graytskys Harvest Moon

MBIS/MBISS Aust Gr Ch Ghostwind Pictureperfect

Aust Ch Ghostwind Pink Floyd

Aust Ch Mazlaren Wispa Inth Wind

MBIS/MBISS Ch Ghostwind Vivien Leigh

Aust Ch Grauhund Heartbreaker

Ch Ghostwind Windnthwillows