Multi BIS/BISS Am/Can/Aust Grand Ch Graytsky's Smokin' in Havana (Imp USA)
'Mac'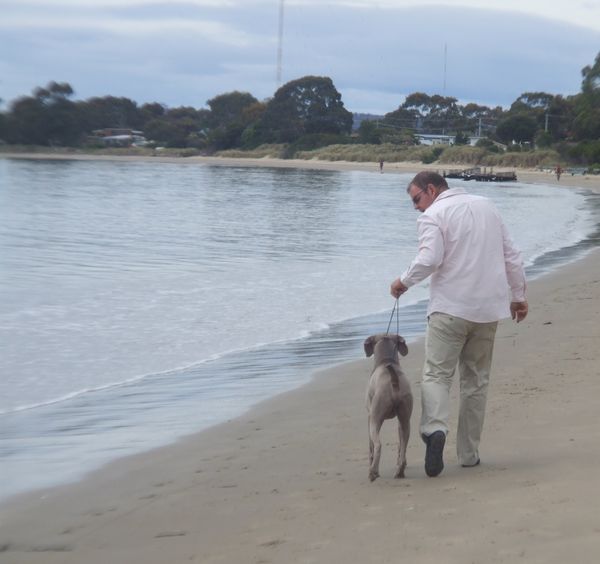 AUSTRALIA FAREWELLS ONE OF THE GRAYTEST WEIMARANER'S TO GRACE OUR SHORES. THANK-YOU MAC FOR ASSURING OUR FUTURE AS NUMBER ONE!

Ghostwind would like to sincerely thank Amy & Michael (GraytSky Weimaraners) and Steve and Therese for entrusting us with Mac for two years. He has now returned home safe and sound, back in the snow. Thanks for the memories!

MAC FINISHES HIS AUSTRALIAN SHOW CAMPAIGN AS THE NUMBER ONE WEIMARANER IN AUSTRALIA ON THE 7th OF DECEMBER 2008 WITH A BEST EXHIBIT IN GROUP AND RUNNER UP BEST EXHIBIT IN SHOW AWARD. HE IS GRAYTLY MISSED AT GHOSTWIND!


Since Mac hit the Australian show scene, he has taken it by storm; coast to coast. A Multi Best in Show, Royal Best in Show and Multi Best in Specialty Show winner. Mac's presence has left its mark on all including his progeny, which is winning in group and in show awards in many states.

In the USA, Mac earned his Championship breeder handled in short order, even going Best of Breed over Specials from the classes on one occasion. After taking some time off to mature, Mac and Michael began competing in Best of Breed. In 2004 and 2005, Michael and Mac earned Futurity and Maturity placements, many Best of Breed wins, Multiple Best In Specialty Show wins, and several Sporting Group Wins, including his Best in Show win at The Maryland Sporting Dog Association. Mac was also ranked in the Top Ten in breed in 2004, and Top Ten All Systems in 2005.

Mac is the proud sire of some lovely pups in the USA & Aus, just beginning their show careers in 2006. 

Mac will be on lease in Australia for 2 years.

Mac is proving his distinction as a producer and show dog. Since then, Mac has been rewarded for his assets and many agree on one thing....BEST IN SHOW....He's at the top of his game!

STOP PRESS 

*** Mac wins BEST EXHIBIT IN SHOW AT LAUNCESTON ROYAL ***

Mac creates Weimaraner history in Australia by being the only dog to have taken Best Exhibit All Breeds in Show at Tasmania's Premier Royal Show. He followed this up the following day with Best Exhibit in Show All Breeds under noted Australian allrounder Sandra Mashford (Vic) and the following weekend at his next outing Best Exhibit in Show again. An amazing feat and one we feel hard to emulate. 

Mac is simply...

A grayt Weimaraner
A grayt Sire
A grayt Show dog
And the graytest Weimaraner to hit our shores... 

 
Am Ch/Can Ch/ Aust GR Ch Graytsky's Smokin' in Havana Imp USA
Am Ch/Can Ch Ashmores Win Weim Royal Flush AM JH

Am Ch Nani's Concert Master SH BROM

Am Ch B aht N'Greywind Playn' The Game

Am Ch Nani's Perfect Cadence BROM

Am CH Nani's Baht A Pack A Trouble CD JH V BROM

Am Ch Colsidex The Farms Reflection

Am Ch Colsidex Blueprint BROM

Am CH The Farm's Made In The Usa

Am Ch. 3XBISS GraytSky's StellaLuna BROMTop Producer

Am Ch Nani's Smart ALeck AM JH

Am Ch Nani N'Graytskys Harvest Moon